MARK YOUR CALENDAR

FOR MARCH 3, 2018
At the Waterfront Cargill Room, Tickets are $75/each
Prepare for a grooovin'  good time! Can you Dig It??  Far Out Food and  cash bar at the happenin' Waterfront Cargill Room.
When life gives you disco balls, you boogie! So put on your dancing shoes but watch you back man….there is a murderer among us!
We are "encouraging" guests to dress in their best 70's to 80's attire, think flower power-bright colors and wild patterns, groovy bell bottoms, shiny jumpsuits, silk shirts and polyester suits and don't forget your platform shoes and funky heels of extreme heights.
Doors open at 5:30PM. Partake in some groovy eats and a cash bar, silent auction, raffle, and live auction. Get psyched for it all to go down 6:45-9PM. Solve the murder and make a big score!
Proceeds from the event stay in our community to support patients and their immediate families in their fight against Lupus. Don't be fool, this party is going to be off the hook!
---
If you're interested in becoming a sponsor, please email us for more details at info@locallupus.org. Because of our sponsor's generous support, the Local Lupus Alliance is able to grow awareness, educate, and to help Coulee Region residents that are suffering from the affects of lupus. 
---
2018 MAJOR SPONSORS
Barb & Dave Erickson                                                              
2018 ACTOR SPONSOR
2018 SPONSOR

THEATRE COMPANY

2018 EVENT SPONSORS

 
2018 FRIENDS OF THE LLA
2018 MEDIA SPONSOR
       
Make a donation
View the photo galleries from past year's Murder Mysteries!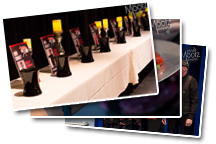 Murder Mystery Theatre 2014
Photos from the Murder Mystery Theatre 2014 are courtesy of Janet Mootz Photography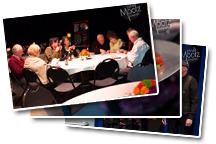 Murder Mystery Theatre 2016
View gallery
Photos from the Murder Mystery Theatre 2016 are courtesy of Michelle Cox
Murder Mystery Theatre 2017
Photos from the Murder Mystery Theatre 2017 are courtesy of Michelle Cox
Photos from the Murder Mystery Theatre 2017 ae courtesy of Terra Wissbaum