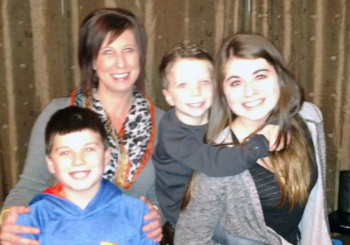 This past December the LLA learned of the Claeys family from Holmen, WI whose 14 year old daughter, Courtney, was newly diagnosed with Lupus. The LLA stepped in to help in the way of information, emotional support, gifts of Festival Foods gift cards to help with groceries and Kwik Trip gas cards to help ease the financial burden of trips to Madison for treatment, as well as a Wal-mart gift card to help in any additional way they needed during the holidays. Below is their story as written by Jenni Claeys, Courtney's mother.
"Lupus unapologetically came into our life unannounced and unwelcome in November 2014, when my daughter Courtney was just 14.
Through the previous summer, doing multiple sports and being a normal teen age girl, she started noticing shortness of breath and pain in her chest. One hot summer day during softball, Courtney instantly reacted to the sun as her face turned beet red in just minutes.
Not long after, a rash began to appear on her face. At first, the doctors treated it as eczema. But we slowly noticed she was becoming more and more tired, and her vision blurred and she began to experience dizziness.
Follow up appointments resulted in changes to the prescriptions to the rash, but after appointment upon appointment, the steroid creams weren't working and fatigue was wiping her out. This time the diagnosis was hyperthyroidism. Several blood labs were ordered and showed Courtney tested positive on an ANA1 (anti-nuclear antibodies) test. Further blood work and urine samples showing she was leaking protein led us to ultrasounds and a kidney biopsy.
Finally, after months of confusion, Courtney was diagnosed with stage 2 lupus nephritis. Traveling back and forth between our home in La Crosse and Children's Hospital in Madison, while trying to coordinate appointments here at Gundersen Health System, became overwhelming very quickly!
After researching all I could about lupus and overwhelmed by what I was reading, a friend directed me to the Local Lupus Alliance. At that point Richard and Renee Chrz reached out with open arms welcoming me with information and connected us with a rheumatologist here at Gundersen. After connecting with them, their generosity has helped in so many ways, and the Local Lupus Alliance has helped me personally with gift cards for gas, groceries and Wal-mart for accessories in a much needed hardship at this time. I am so thankful that this community has the connections to lead us to answers of help."
1The antinuclear antibody (ANA) test is used as a primary test to help evaluate a person for autoimmune disorders that affect many tissues and organs throughout the body (systemic) and is most often used as one of the tests to help diagnose systemic lupus erythematosus (SLE).